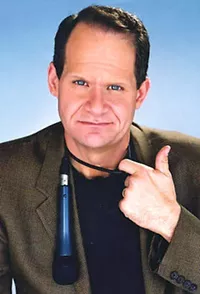 Comedian
Bob Zany
, headlining tonight and tomorrow at the
Argosy Casino
in Alton, has been cracking jokes in front of crowds for more than 30 years.
In that time, the 47-year-old has made hundreds of national television appearances (
Gong Show
,
Drew Carey
,
Star Search
, etc., etc.) and carved out a weekly spot each week on the syndicated radio program, the
Bob & Tom Show.
Still, for all his many achievements Zany is one of the first to admit that he's never struck it big in the profession. "I've had breaks, but I haven't had the
big
break," he concedes.
That topic -- coupled with the stories of other performers in the comedy circuit -- is the theme of a movie under production by local filmmaker
Jay Kanzler
.
Kanzler calls the film a "mockumentary" -- though that's not exactly how Zany sees it.
"That's what were calling it!?" says a surprised Zany during an interview Thursday at
Riverfront Times
. "Get my agent on the line! Hello?? Hello?? He hung up."
Zany and Kanzler are something of an
Odd Couple
. The outspoken Zany bills himself as something of an unemployable louse whose last bit of honest work came as a Los Angeles courier in the early-1980s. The reserved Kanzler, meanwhile, works as a white-collar St. Louis attorney (who dabbles in a few
outlandish cases
) and is also an ordained Episcopal priest.
Their one commonality? A shared sense of humor.
Kanzler first met Zany in 2002 when he won the
Fix That Joke
contest on Zany's website in which fans provide new punch lines for old yarns.
"You could say that Jay reached out to me. Scratch that. He gave me the reach around and from there it blossomed into heavy spooning," cracks Zany. "He likes to provide me with some of the most disgusting, vile and repressed jokes that an attorney/priest could possible dream up and have me read them in front of an audience."
The duo began discussing a film a couple years back that would explore all the behind-the-scenes work Zany puts into his act -- from booking events, to writing jokes and interacting with fans. The movie will also call on other comedians to share their experiences in comedy while providing Zany with a good ribbing or two.
"Rodney Dangerfield had the best act in this business," notes Zany. "Boil it down, and it is all about getting no respect."
The working title for the film plays on Zany's stogie-chomping stand-up persona. It's called
Close, But No Ciga
r.
Zany, accompanied by comedians Chick McGee and Lonnie Love, performs tonight and tomorrow at the Argosy Casino at 7 p.m. and 9:30 p.m.