The
New York Times
follows up on its recent
John Goodman profile
with a review of the current
Broadway production of Samuel Beckett's Waiting for Godot
.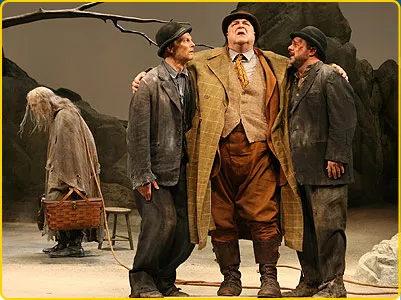 Joan Marcus
Bill Irwin, John Goodman, Nathan Lane (foreground, L to R) and John Glover (far L, in background) wait for GOD-oh.
You probably already know that Goodman's a St. Louis boy. But did you know that
Godot
is pronounced
GOD-oh
? See, that's why folks read the
New York Times
!
Times
man Ben Brantley's
review of the play
, which opened April 3 and runs through the Fourth of July weekend, heaps praise on all sides, but also singles out Goodman.
...Anthony Page's smart, engaging production for the Roundabout Theater Company makes it clear that this greatest of 20th-century plays is also entertainment of a high order. It seems fitting that "Godot" -- which also stars Nathan Lane, John Glover and John Goodman -- returns to Broadway in an interpretation that emphasizes the irresistible rhythms achieved by Beckett's radical literary surgery, that of cutting basic theatrical diversions off at the knees. Listen, for example, to...the lordly, arrogant Pozzo (Mr. Goodman, in a bravura Broadway debut), his booming authority fading as he finishes a lush pastoral description and says: "I weakened a little toward the end. Did you notice?"

And, later:
[R]ather than the usual basic mound of dirt and lone tree, we have a complete rocky landscape (designed by Santo Loquasto and exquisitely lighted by Peter Kaczorowski) and, in Mr. Lane (king of the Broadway musicals) and Mr. Goodman (who starred in the long-running sitcom "Roseanne") two performers with marquee appeal who are not generally associated with classical drama.... As it turns out, these actors serve the purposes of Beckett's bleak comedy admirably (and in Mr. Goodman's case, spectacularly).

And, finally:
I should note that Mr. Lane and Mr. Irwin are never more convincingly allied, like people bonding in an earthquake, than when Mr. Goodman is onstage. As well they should be. Mr. Goodman's blusteringly genteel Pozzo explodes with the nonsensical tyranny of the autocrats in Lewis Carroll's "Alice" books. In his relationship with Mr. Glover's superb Lucky, who suggests a broken-down horse trying to avoid the glue factory, his Pozzo embodies centuries of aristocratic entitlement and subjugation. (This is a performance that any student of class systems needs to see.) But Mr. Goodman lets us glimpse the tickling uncertainty within the stolidness. He is human, after all, which means his very foundation is doubt.

Go Johnny, go!