It has been a long time since Unreal attended a circus -- 21 years, to be precise. It has been even longer since Unreal witnessed a performing cat -- like, never. Last night seemed like high time to broaden our horizons. Cat circuses, after all, do not come to St. Louis every day.
And so last night we hauled our ass down to
Cranky Yellow
on Cherokee Street to see the
Acro-Cats
.
It seemed a lot of our fellow citizens had the same idea. The 8:30 performance, the cheerful young man behind the counter informed us, was standing room only. The show also would not be starting at 8:30 because the stars were "being cats."
While we waited, we chatted with Elizabeth Frick and her cat, Chester. Our conversation with Chester was entirely one-sided and involved us saying insipid things like, "Oooh, you're such a handsome boy!" while he cringed and tried to bury his head in the litter box.
Frick is the director of
Tenth Life
, an agency that rescues injured and abused cats. She found Chester on the street. His recumbent posture disguised a gimpy back leg, but Frick said he had a fine disposition and if anybody wanted to take him in, or one of the kittens just birthed by another of her cats, they should let her know.
We should mention that the circus was part of a benefit "Cat-Stravaganza" for Tenth Life and there were lots of kitty tchotchkes for sale as well.
And then the show began!
Cats are amazing creatures. They can climb poles. They can jump through hoops. They can ride skateboards. They can roll basketballs and hamster wheels. They can ring bells. They can raise their paws when they see a sign that says "Who's Number One?" They can beat a chicken in a (very abbreviated) bowling tournament. (It must be said that the crowd was largely in favor of the chicken.)
They do not always do these things on cue, but their trainer,
Samantha Martin
, who also served as the circus' ringmistress, can usually persuade them with a few strategically-placed bits of tuna. Or chicken. (But not Indiana Jones, the losing bowler. The cats prefer the food of their sponsor,
Evanger
, the brand also favored by
Gut Check
's very own
Bess
.)
Martin has been running the cat circus for three years. Before that, she was known as the Rat Lady of Chicago. She would not say how many cats she owned, but did allow that she is single.
Besides the cats and the aforementioned rats and chicken, she also has a ferret named Jimmy, a
kinkajou
named Casey and a groundhog named Warner who can raise a flag and has appeared on
Oprah
.
The grand finale of the circus was a performance by the Rock Cats, a band comprised solely of (you guessed it) felines. It was also Unreal's favorite part because we were close enough to actually see.
The Rock Cats have previously appeared on
America's Got Talent
but did not make it past the first round because they did not, according to the judges, play a recognizable song. Martin felt this was unfair, but now the band has other problems, notably a feud between Nue, the keyboard player, and Dakota, the drummer.
The effects of the feud could clearly be felt. Nue and Dakota refused to play at the same time. Pinky, the guitarist, ignored the drama and continued to strum her signature blend of acid jazz and heavy metal.
By this point in the act, Martin's announcement seemed perfectly normal to us. Sure, Lennon and McCartney, Nue and Dakota. It was a sure sign that we had had enough cat circus for one night, perhaps even for a lifetime.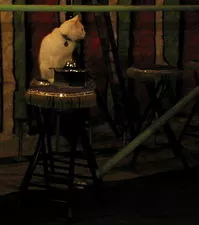 Tuna, bell-ringer, bowler and star of the film Zeke. No, we haven't seen it, either.