The
Photos: Michael De Feo/www.mdefeo.com
Or this: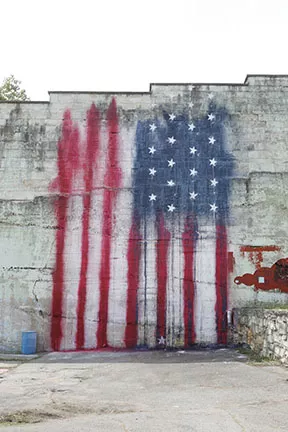 Oh wait, they had those paintings. And
these
too. They were part of Jeff City's 2008 "Art in the Park" festivities. But shortly after the event ended in August, the state paid to have the art soda-blasted off, returning the prison walls to their lovely bland shade of gray.
Needless to say, the artists were pissed when they found out their work wasn't permanent.


Here's what we reported about the conflict in our
feature story
about St. Louis graffiti back in January:
"It's like nothing even happened. You can't even see the remnants of color," says [Bryan] Walsh. "The walls of the courtyard we painted border the gas chamber. That place was nothing but nasty. Why preserve that? And

to spend taxpayer money to remove the art? That seems like a practice in futility

."

Larry Schepker, commissioner of the Missouri Office of Administration, which manages the state's publicly owned buildings and grounds, says that had been his intention all along ... "

The idea is that it will turn into a real asset for the citizens of Missouri.

"
Now, in the wake of the proposed tours, the same anger from the artists is getting stoked again.
Local artist Justin Tolentino installed a large wood panel mural from an art exhibition in St. Louis in the prison yard and painted another one with Walsh.
"You'd think they'd keep that around if they were planning on doing tours. I just think they weren't happy with the aesthetic we had going on.
It scared the shit out of them
," Tolentino says. "It's kind of fucked up. I felt that having that art there would open up the minds of the art world in Jeff City. Instead it basically just closed them off."
But the irony of ironies in this story is that
even the supposedly cherished architecture and macabre allure the old State Pen has to offer will soon be history
. Reports the
Missourian:
"The prison site is targeted for redevelopment of up to 3 million square feet of hotels, retail, office and restaurant uses."