Local photographer
Jim Trotter
keeps telling people about how worker-bees on
George Clooney's
Up in the Air
rented one of his photographs to use in the movie, and, well, "everyone is so excited about it," Trotter says, "so, hell, I got excited, too!"
A month or so ago, a set designer working on the movie walked into
Warehouse of Dinettes
, one of the lucky-thirteen spots around town where Trotter keeps art-for-sale on the walls. Shortly afterward, the set designer paid a visit to Trotter's Creve Coeur studio. "She bought my book [of St. Louis landmarks]. I didn't give her one. I made her buy one! Not very good PR, I suppose, but it wasn't a week later that she came back," says Trotter, and scooped up a three-by-five-foot aerial shot of the Arch grounds
for a cool $700.
Actually, the film crew is just renting the piece, which Trotter has been told will appear in the background of a scene at the airport. You know what that means. "Now that George Clooney has used it," says Trotter with more than a wee bit of glee, "I think I can sell the piece for a bit of a premium!"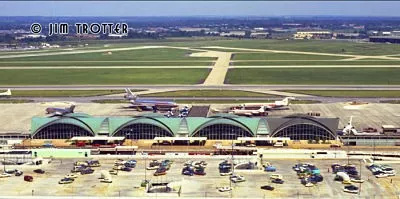 Jim Trotter
Lambert's so...old-school. Is that why Clooney's people chose to film here?
The crew also bought rights to use two of Trotter's other photographs, which show
Lambert Airport
sans tower, in all its 1970's glory.
"Somebody told me today that [the film directors] picked St. Louis because the airport is not modernized!"
says Trotter. "Is that a good thing?"
Decide for yourselves. And if anybody else has an, "I made 700 bucks off George Clooney!" tale to tell, the folks over here at
The Daily RFT
would love to hear it. Shoot me an
e-mail
and share.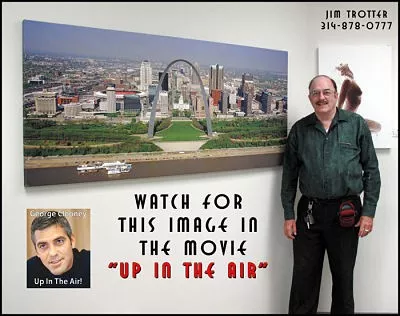 Jim Trotter
Who made 700 bucks off George Clooney? This guy!