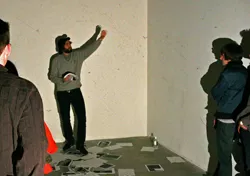 Photo: Nicole Stevens
Berlin-based artist Tris Vonna-Michell.
British artist
Jeremy Deller
's
cross-country traveling art show
It is What it is: Conversations About Iraq
, spent Tuesday afternoon parked in front of Vintage Vinyl in the Delmar Loop.
The project made its way to St. Louis from New York via the arts non-profit Creative Time and the Contemporary Art Museum of St. Louis.
The exhibit's "guest experts" --
Jonathan Harvey
, an Iraq veteran, and
Esam Pasha
, an Iraqi artist, journalist and translator now living in the United States -- positioned themselves for public inquiry near the carcass of a car bombed in Baghdad and now hitched to the rear of a massive RV.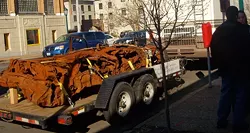 Photo: Jessica Baran
The work of art in question.
Both claimed no explicit stance on the war, preferring, instead, to answer questions and to listen. "Here and elsewhere," Pasha explained, "many people approach us wanting to get into an argument. But once I explain that I'm an artist and not interested in convincing them of any position, their guards come down."
Deller, the experts and Creative Time curator,
Nato Thompson
, later re-convened at the Contemporary, where a varied group of local professionals had already formed, eager to resume a conversation about the war.
After expounding in complex detail on Iraqi governance and U.S. military strategies, Harvey explained that he enlisted in the army "on what was basically a lark." Participating in
It Is What It Is
, he said, was a way to make use of his experience and to have the opportunity to take a road trip.
Photo: Jessica Baran
The cross-country traveling art show, It Is What It Is.
Meanwhile, half of the evening's crowd had splintered off to gather in the CAM's Front Room, where Berlin-based artist
Tris Vonna-Michell
gave a repetitive and rhythmic spoken-word performance. Amid the bright flashes of a slide show of camera lens cracks and a hand-thrown flurry of photocopied photos, Vonna-Michell narrated a tale of experience lost to lack of documentation and the endless revisions of memory. The stuttering performance served as a way to recreate the experience, which he conclusively summarized as being a story "about barbed wire and a city I've never even been to."
With these two pieces and
last week's brief Front Room show
-- curated by St. Louisan
William Gass
, proposing that creating art is a strategy for overcoming the mundane -- a suite of works has emerged that incidentally proposes the wider and more effectual resonance of the so-called mundane -- conversations, story-telling, towels -- as it is, in all of its artlessness.