Yesterday, my colleague Kristen Hinman
wrote an open letter
to
George Clooney
after observing the actor
dining at Niche restaurant
last Saturday.
Hinman's letter (published in
Daily RFT
) elicited a quick e-mail from Maplewood Community Development Director
Rachelle L'Ecuyer
who e-mailed in to tell us how much she enjoyed the blog post. L'Ecuyer also forwarded us her own open-letter to Clooney that included a photo of the actor along with the following caption.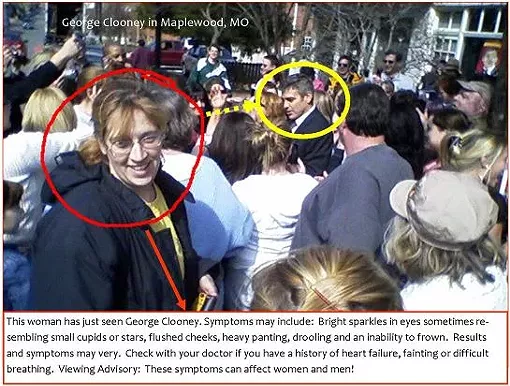 Think that's amusing/bizarre? Then you'll definitely want to follow the jump to read L'Ecuyer's letter blending her
unabashed love for Clooney
with an
unapologetic sales pitch for Maplewood
.
An open letter to George Clooney from the Director of Community Development for the City of Maplewood. (Note: Not all the links from L'Ecuyer's letter transferred to this posting.)
Dear Mr. Clooney,
We just want you to know that
we understand why your publicist turned down our offer to give you a key to our fair city
; there are about 90 or so municipalities in St. Louis County and that would make for one heavy suitcase to haul back to L.A. I cannot even imagine how security would handle such a thing.
I do want to thank you for being so charming and kind to your fans while you were here, people will think that was because you were in Maplewood.
Even though I got fake snow stuck to my black overcoat I have to say, the film crew was great and very easy to work with, too
.
Now, I don't want to sound critical but your publicist should have thought about this and here is what I would have done (if I were your publicist) and even though you haven't asked, here are some tips for your next trip to Maplewood (which we hope will happen again soon!):
1.Pass out shopping bags to every gawking bystander you pass on the street from your trailer to the set that say,
"I Love George Clooney and George Clooney Loves Maplewood!"
Jillians of Ideas could get them taken care of in a flash. If bags aren't your thing, Jillians could also make towels with a tag that legally prohibits the recipient from turning the essence of your perspiration into a flavoring for food. Jillians of Ideas, 7189 Manchester Avenue, 781-3888,
www.jillians.norwood.com
2. You must have correspondence to catch-up on. Tiger Lily (right across the street from your dressing room trailer) can set you up with personalized stationary and other items (just about anything could be graced with a big "G", "GC" or "GTC" or really anything you want!) Click here for a complete list of Maplewood's unique and fabulous boutiques: Shop.
Remember this is not Rodeo Drive and you could buy a truckload of stuff (even things you can use) for what you spend in L.A.
Tiger Lily, 2739 Sutton Blvd., 645-0061,
www.mytigerlilystl.com
3. Throw a party for the film crew and all of the extras in Maplewood (this could still happen!) This would work really well because for one, the parking is already secured, but there is also a place for every one of your film crew, cast and staff in Maplewood.
We offer an array of delightful dining options from world class and nationally renowned options to the Schlafly Bottleworks (we heard you really like beer!)
Throw in the Jive and Wail Dueling Piano Bar, the Black Cat Theatre and the legendary Saratoga Bowling Lanes and you have quite a party. Click here for the full dining and entertainment list: Dine Bowl (Entertainment)
4. Finally, why drive around in a car that hides you from view? This is the Midwest, your true fan base is here! These are the folks who pay to see the movies, don't walk up a red carpet or even get a gift bag at the end of the night, give them what they want: drive around in a convertible! And as fate would have it,
Maplewood has a car with your initials: GTC , the GT Convertible Mustang at Auto Plaza Ford.
I recommend the red. Auto Plaza Ford, 7501 Manchester, 645-2780,
www.autoplazaford.com
.
Well, we hope you do come back, there are plenty of stories to tell, many films to make and this is a great place to do it: eclectic architecture, accessibility and a supportive business and residential community.
Cheers!
Rachelle L'Ecuyer
Community Development Director
City of Maplewood World Headquarters
7601 Manchester Road
Maplewood, MO 63143