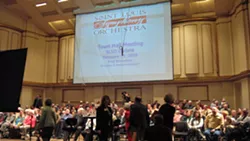 Interactive Town Hall Meeting at Powell
The
Saint Louis Symphony Orchestra
(SLSO) got all interactive on patrons at its first-ever "Town Hall Meeting" Tuesday evening at Powell Hall.
With HEC-TV broadcasting live, music director
David Robertson
and president Fred Bronstein breezed through an hour-long Power Point presentation of the quirky upcoming
season
, then took questions from the audience and T.V. viewers who were emailing their questions in.
Classical Music + new-fangled Webby format = KABOOM.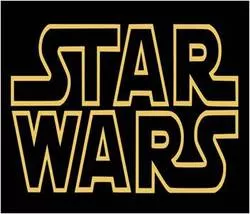 Some stuff on offer this year, such as Handel's
Messiah
and Beethoven's
Symphony No. 5
, might sound familiar. Other stuff, unless you've spent life wholly enveloped in a
Snuggie
, will definitely sound familiar: the music of John Williams (Star Wars, etc.), Looney Toons, and Disney will each get its own program. And some stuff you haven't heard, because it's not written yet -- SLSO has commissioned original works by contemporary composers Meredith Monk and Rollo Dilworth.
But hard-core classical symphony buffs, be not crestfallen: will an entire two weeks of straight Beethoven cheer you up? How about Mozart's
Requiem
? How about Rachmaninoff, Dvorak, and Tchaikovsky?
SLSO is obviously trying to lure in all kinds of folks this year, but one email questioner wanted to know: what about the less well-off among us? Robertson answered by pointing out that there are always
50 free tickets
to every performance, and that some tickets run only $10 to $15, about the cost of going to a movie.
The last questioner of the night -- also submitting via email -- asked Bronstein and Robertson what they would do if they could wave a magic wand over SLSO.
Robertson replied without hesitation: "I'd love the symphony to be supported at a level that you'd never have think about anything other than getting the music."