Kudos to Robert Downey Jr. The actor was nominated this morning for a "Best Supporting Actor" Oscar for his hysterical (and oh-so-politically-incorrect) blackface routine in last year's Vietnam War parody, Tropic Thunder.
Downey's film advice to Ben Stiller that he "never go full retard" when depicting the mentally challenged still makes my ribs ache.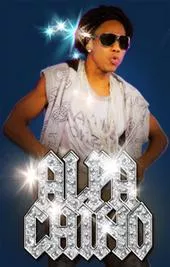 But for me, the movie was worth its price of admission early on when actor
Brandon Jackson
(playing a rapper obviously based on St. Louis' very own
Nelly
) sang his song "I Love Tha Pussy." The video for the single has Jackson's character, Alpa Chino, peddling an energy drink called
Booty Sweat
. (No obvious tie there to Nelly's liquid stimulant,
Pimp Juice
.)
Alas, I couldn't find the video from the movie on YouTube, but there is this little product promo (after the jump) that's still pretty funny.