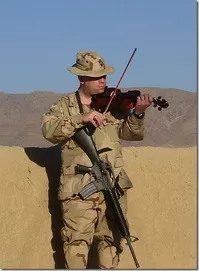 Marc Thayer
, vice-president for education and community partnerships for
Saint Louis Symphony Orchestra
, is the focus of a profile in the
current edition of Playbill magazine
, a national publication of the performing arts.
For the past two summers Thayer has traveled to the Kurdish region of northern Iraq to teach music. This past fall, two of Thayer's Iraqi students --
Alan Salih Mohammed
and
Zana Jalal Ali
-- returned with him to St. Louis to improve their English skills and continue their violin lessons. In Iraq both men play in the string orchestra of their hometown, Suleimanya, a Kurdistan city with a population of 800,000.
Playbill
notes that the students have enjoyed their stay in St. Louis, especially their trips to fried-chicken eatery,
Hodak's
.