Illustrator and former St. Louis resident Bob Staake has created the top magazine cover of 2008, according to Time magazine, for the post-election Obama moonrise designed for the New Yorker.

According to the Time, Staake's work is tops because:

Why is the cover great? It doesn't do a victory dance. Rather, it whispers to the reader (the tribe): "Everything's okay now -- we have our country back." It's set at night, a time when creepy things happen, but also a time when people sleep, safe and sound. It is beautifully rendered. Simply spectacular.

View the winning cover and read more about Staake after the jump.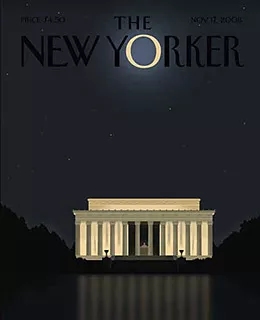 Staake came to St. Louis in the 1980s, after meeting Native St. Louisan Paulette Fehlig.
Staake's cover was picked the for award for best cover by another St. Louis expatriate, Arthur Hochstein.

Check out Staake's personal Web site at http://www.bobstaake.com.


View the other covers that made Time's top ten list.