Come Wednesday we'll have a new commander-in-chief. A "decider," a president the world will have to deal with through thick and thin (it will likely be a lot of thick.)
In such stressful times, questioning authority has its perks, no?
St. Louis artist Mark Florida re-imagines World War II propaganda through a modern lens in a photography and digital media exhibit at phd, a gallery at 2300 Cherokee Street by Philip Hitchcock.
The nine-piece photo series focuses on urban murals modeled after patriotic World War II posters and slogans.
To create his works, Florida relies on a technique that includes photographing old buildings and digitally layering antiquated posters from the FDR years over the photographs.
The buildings include the worn brick structures of St. Louis, Memphis and Mississippi.
One photo depicts a tall yellow mural on a brick building that seems to advertise the benefits of conformity: "Cloning today…for a better tomorrow!"
The black shapes of soldiers form a Christmas-tree shaped temple -- behind them is a cross painted in the colors the American flag.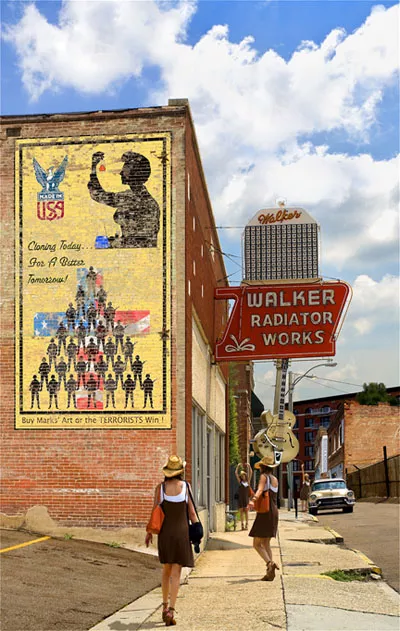 Another Florida photo reminds the viewer of the iconic movie still from The Seven Year Itch -- the upskirt of Marilyn Monroe. With an American flag in the background, "War on Terror," rings across the top of the poster, with "Give it Your Best!" at the bottom.
At the very bottom of all of Florida's photos appears the slogan: "Buy Mark's Art or the Terrorists Win."
Hitchcock said he started planning for the politically-themed exhibit in July.
"I'm a little bit of a shit disturber," the gallery owner acknowledged, noting that Florida's art works on an aesthetic and political level.
With the election looming, Florida says he isn't necessarily trying to be partisan.
"I think that for the most part it is poking fun at politics in general," he says.
Politics aren't completely removed, however. A naked Sarah Palin look-a-like appears in one mural he creates that seems to be supporting the National Rifle Association.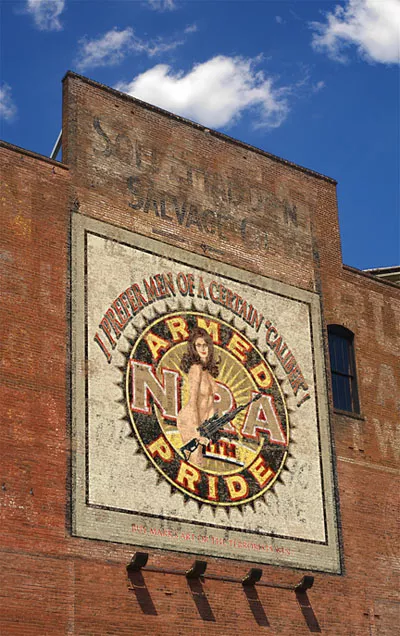 "I do know one thing," Florida adds, reflecting on how his art will fare in tough economic times. "I know that most of my clientele are democrats. I think if the election goes that way the optimism will take over. Whether it is duly warranted or not, I don't think that will matter. I think the energy will be out there."
Titled "Buy Mark's Art or the Terrorist's Win," Florida's work will be on display until December 13 at the southside gallery.
Prices range from $480 to $1,200 in order to take one back to a comfy home or loft. The gallery is open from noon to 4 p.m. Thursday through Sunday.
More of Florida's art: