I bought a cup of coffee at a locally owned coffee shop and showed up an hour early for writer Christian Lander's appearance at Left Bank Books last night.
I was really glad that Left Bank was hosting Lander, and not one of those large-scale corporate bookstores; I even found a vintage copy of Yeats' The Tower – I'd been looking everywhere for one of those! At first, I was a little offended that more people hadn't shown up for such a prolific and funny author, but since he wasn't scheduled for another 45 minutes, I bought a copy of his book, Stuff White People Like. Before long, an assembly of men in New Balance and women in scarves were seated.
Stuff White People Like is written as a textbook guide to the culture that ''wins both ways,'' an area of expertise for Lander, who grew up in Riverdale, Toronto and cited ''the mirror'' as his main source of inspiration.
Between taking exaggerated swigs of his water bottle, Lander described how what started as a casual joke among friends culminated with the attention of top Hollywood agents -- including the Creative Arts Agency in LA -- vying for publication rights to his blog.
(The CAA is dauntingly referred to as ''The Death Star'' by outsiders. Lander, who now lives in LA with his wife, was mistaken for a courier when he rode his fixed-gear bike between parked Bentleys and Hummers to meet CAA agents at their request)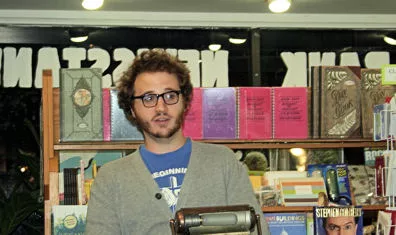 As Stuff White People Like climbed to the top of the New York Times bestseller list, Lander appeared as a guest on Late Night with Conan O'Brien, alongside Jerry O'Connell. During TV appearance, Lander was shocked when O'Connell -- whom Lander venerated for his role on the Canadian television series, My Secret Identity -- hunted him down to tell him how much he enjoyed the blog.
Emphasizing the whirlwind of Stuff White People Like's popularity, Lander told how it all began this January in Toronto, when his good friend Miles, a Filipino, confided to him that ''he didn't trust a white person who didn't watch The Wire.''
They immediately began speculating on what white people who weren't watching The Wire might be doing instead, including therapy, yoga, and getting a divorce, amongst others. Lander went to blogging Web site WordPress, and on January 18th wrote that first post.
In the months since, his blog about the ''unbearable whiteness of being'' clocks in at close to 44 million hits, thanks in no small part to a winning formula that's part self deprecating humor and irony, also explored as topics in Stuff. Lander was also recently one of 100 guest speakers at MIT's ROFLCon, a convention celebrating and exploring Internet Pop Culture, along with other viral favorites, including Jay Maynard of Tron Guy, and Kyle MacDonald of One Red Paperclip.
On Monday night, Lander read five of his favorite excerpts from his definitive guide for the first time (St. Louis was the first stop on the second half of his tour) at Left Bank including:
No. 96 Having Children in Their Late Thirties No. 113 Che Guevara No. 101 Scarves No. 120 Platonic Friendships No. 95 Beards
Afterwards, I waited in line for Lander to sign my copy of his book, and told him that, as an editorial assistant for an alt weekly, his story renewed my faith in having my dreams come true. Lander laughed and said alt weeklies almost made the cut for his book, and signed my copy.
''Your paper keeps all white people informed.''
-Kristy Wendt - Photos by Vikram Singh