What You Missed: Opening reception of Jason Hackenwerth's new work.
Where: Webster University's Cecill R. Hunt Gallery, 8342 Big Bend Boulevard.
Better Than: That scary clown who made a balloon animal dog and made your parents pay double because the dog could be flipped and "poof" it became a giraffe.
Last Night: Balloons sculptures made with an underlying theme of sexuality was not at all what I expected when I was told to review an exhibition of a balloon artist. I thought they might be cute, seemingly cuddly, except for the squishy and ultimate popping sound they would make if I actually would try to hug them. Instead, Jason Hackenwerth's sculptures, and yes, I think that is an accurate way to describe his group of intricately conjoined balloons, made me more excited about balloons than I have been since I was a kid.
In the gallery's accompanying booklet to the exhibition it explains how Hackenwerth draws inspiration from male and female forms to shape his balloon sculptures.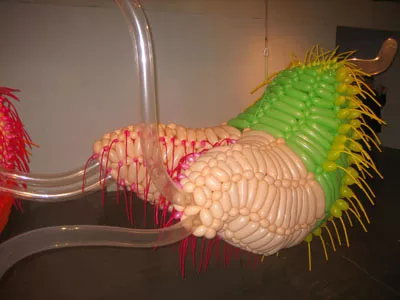 This concept explains the lone black briefcase, a piece entitled The Secrets of the Universe, which seemed to confuse most of the viewers including myself. It contains square blocks with ones and zeros etched on them and Sigmund Freud's book, "Civilization and Its Discontents." While the piece seemed like it belonged in a different exhibition it is actually the centerpiece of Hackenwerth's work.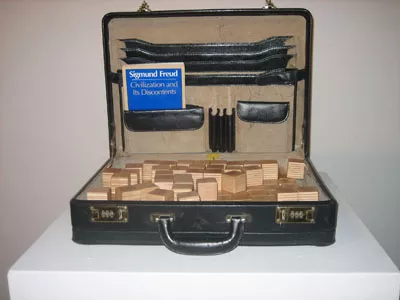 He uses Freud's theory of a line as a phallic symbol and the circle as the female symbol to show these balloon organisms as encompassing life and death or the beginning and the end. While this idea of incorporating male and female symbols is not new, he does use an interesting material to reflect his philosophy. Hackenwerth acts as creator, breathing life into his sculptures and shaping them into their living forms. But eventually, even during the opening reception, you understand that air is slowing escaping from their thin shells. Last night he continued to add balloons to the sculptures, almost desperately trying to keep them from failing. His creations eventually lose the life he gave them and become nothing more than flat, brightly colored rubber that will be eventually discarded.
While Hackenwerth (pictured) is mostly known for his balloon sculptures, I found the most impressive and fascinating piece of the exhibit The Black Widow. The mobile of two spider-esque creatures, female hovering over the male, explores the notion of one creatures need for another to complete them, even if, in this case, it means being eaten by your so-called soul mate after they use you for what your worth. Hackenwerth shows the two lovers in a dance, the string that attaches them twirls the bottom male spider. He twists, and as I watch I find myself hoping the movement will stop and they will come together and mirror one another in their forms. It seems we are all naive when it comes to love.
Hackenwerth graduated with his BFA from Webster University so the show's attendees included many of his school friends and former teachers. His mother, with a head of fiery red hair and wearing a polka dot shirt was also in attendance and Hackenwerth told me she was the one who taught him the art of balloons.
"She started dressing as a clown and twisting balloons on the weekends to help us make ends meet when I was a kid," Hackenwerth says. "It was really embarrassing then, but when I started college here at Webster University I needed to make some money so she taught be how to do that."
Hackenwerth realized the value of his clown skills when he moved to New York to become a professional artist. "When I moved I used the traditional materials to make paintings and sculptures," Hackenwerth says. "But out of some need to bring some color to the subways that were depressing to travel in, I started bringing my balloons in there and doing installations there late at night, and people really responded to that."
Often, art exhibitions are usually filled with silence. One usually sees hard squints of fellow artists and observers searching for a meaning. They act in awe of the work, whether they understand it or not. People file through, cock their heads at paintings and tiptoe around sculptures like they are rare artifacts that will suddenly collapse. At last night's exhibition there was an excess of smiling faces and laughter. Old friends of Hackenwerth's chatted about college days and he hugged half of the attendees. One child in a tie-die shirt, reflecting the colors of the balloon sculptures, went up to each piece asking his dad, "What's that? What is that?" So while Hackenwerth's art is conceptual at its core, the pieces' appearance caused an infectious happiness that I remembered feeling when as a kid I let a group of balloons fly into the clouds.
Oh, and I forgot to mention. It was also the first time an artist said "vaginal" to me.
Could a Friday night get any better?
- Photos and words by Jami L. Oetting