What You Missed: Opening reception for Jargon: work by Terrance Hughes, Alphonzo Solorzano, Miguel Filipe and Jason Faulkner.
Where: Mad Art Gallery, 2727 S. 12th Street, in the shadow of the now-Belgian brewery.
Better Than: Drinking Bud Light and watching Ralph Bakshi's Cool World.

A large, antique frame surrounds Alphonzo Solorzano's "Te Dije Mi Hijo Pero Lla Lo Fregastes," but can't quite fit the title.
As the setting for Jargon, Mad Art's converted police station is apt and attractive.
Sure, the intact holding cells may remind this writer of long, lonely nights following one too many missed court appearances, but they also serve as a nice preamble to the main show, housed in what was once the garage. Four artists share the space with work by local boy cum New Yorker Terrance Hughes and San Francisco native Alphonzo Solorzano dominating the walls.
About 60 interested parties milled around, sipping wine or $2 Schlafly drafts ($2 ?!? Let's get loaded at the art show!) chatting and taking in the work, most of which seems graphically inspired, like the fine art cousin to a very hip comic book store.
All four artists work with somewhat unconventional materials, giving the finished product more personality than the images alone would have. The musical accompaniment switched from ambient, instrumental hip-hop to a live classical guitarist halfway through the event. The apparent clash matched the feel of the show.
Hughes, who was constantly surrounded by friends and family taking snapshots at his first hometown show, appeared enjoyed showing off for his loved ones.
''It's nice to be able to show my work here,'' Hughes said, looking around the room smiling at freshly arriving old friends. ''Most of these people have never been able to see my work like this.''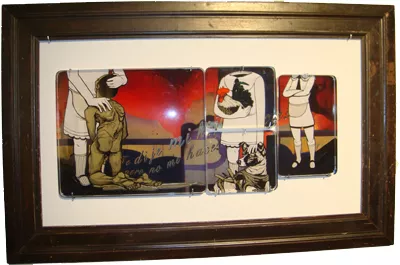 Terrance Hughes casts "Jack Black" as a whitewashed Stymie and "Ben Stiller" as a pale Buckwheat in his Little Rascals remake.
Hughes uses bright, cartoonish images on clear acetate, over more reserved sketches to give some of his pieces an animated appearance. All the while, his work conjures up serious thoughts on race and identity in an entertainment fueled culture. Pieces like ''Jack Black'' and ''Ben Stiller'' show of his gravely tongue-in-cheek sensibilities.
The artists were more than happy to answer all questions from anyone willing to ask them. You learn a lot talking to artists, like how materials affect the work, the difficulties of shipping art and why having your easel held hostage in California will keep you from painting.
Across from Hughes' work is Solorzano's set-up, featuring an eclectic mix of mediums, textures and subjects. Flowing blue clouds and adorable flying squirrels shared space on vintage speaker boxes, while scrap materials add character to some grisly depictions of sorrowful figures, disemboweled and yet strangely hopeful.
Solorzano works in the sign-making industry which pushes him to be creative with constructions. "I basically live at that job so it really forces me to work with those materials. I use vinyl as outline for some of the squirrels and you really don't see other artists using that. It's mostly just used for lettering and signs."
Miguel Felipe's small and mighty pieces scattered across the wall at the Mad Art gallery.
Chef's hats, ice cream bars, and intestines are coomon features in Miguel Felipe's work.
The painted blocks of wood that made up Miguel Felipe's contribution shared a corner of the room and a playfully grotesque style with Jason Faulkner's cat/fish/hydra drawings.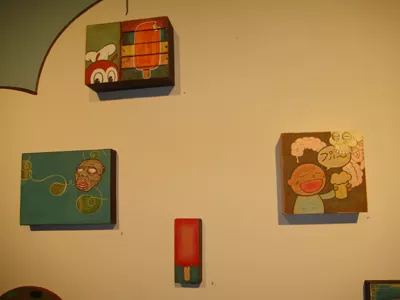 "It's like Loch Ness kitty, and it's freaking me out," one attendee raved.
Felipe's work explored the overlooked similarities of severed heads, ice cream bars and pigs who cook. All three are fascinating in their combinations and solo efforts.
Felipe, Hughes and Solorzano are old friends and had been looking to show together for a while. While it would be incorrect to describe all of the art in the show as similar, it shares a collective mood and modern influences, juxtaposing potentially offensive images with a cartoon stylization.
Guests at Mad Art, having gotten their fill of the artwork, down come canapes and local beer.
As far as darkly funny, comic book inspired, socially aware art goes, Jargon certainly won't see the kind of business The Dark Knight has been doing. But in the shadow of St. Louis' former symbol of commercial civic pride, Mad Art gives us something local to cheer for. And $2 Schlafly.