So, how do you convince a doorman to grant you entry to an underwear party fully clothed?
You don't.
The man with a handlebar mustache kindly scoffs at the notion and points out: ''You look like you're dressed to go to the grocery store.'' He directs you to the ''changing area,'' a tiny space partitioned off with a black tarp from the entrance. With one peek, you've already caught some burly men eagerly stripping down in the shadows of a bright floodlight. Enough with drawn-out hesitations -- it's time to disrobe, and join in the hedonistic fun.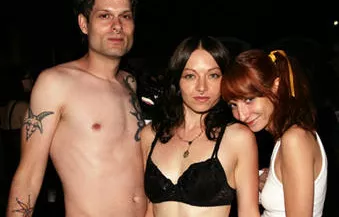 Saturday's invitation-only Tighty Whitey bash at White Flag Projects attracted about 150 local hipsters of all shapes and sizes parading around with gusto in nothing but underwear.
The panty party, which took place in the Grove, marks the season's end for the nonprofit, contemporary art gallery and was well documented by RFT freelance photog Steve Truesdell (view slideshow).
White Flag Projects Director Matthew Strauss says it's the second year for the party, though the first for the exhibitionistic theme. ''We change the event every year,'' he says. ''We let someone we admire design the party -- this year Steven Jehle inspired it.''
Whatever the inspiration might have been, the one-night-only skivvies showdown continued in a strange, no-holds-barred fashion: The words ''Strip For Me'' blared as Rev. DJ Davidian Alterior of the Superstars of Love spun his heart out; ladies locked lips on a fur-covered bed while a video camera planted above projected the steamy scene across the wall for a free, voyeuristic show; an unused condom settled in the grass next to three kegs in a fenced-in outdoor area as bystanders mingled, chain-smoked and bought $2 frozen treats from an ice-cream truck parked on the lawn. And everyone hung out in underwear looking at everyone else in underwear -- all having one hell of a time.
At 10:46 p.m., the dance floor suddenly flooded the 276-occupancy room with almost-nude bodies twisting, twirling and from time to time heavily grinding as the fallen silver streamers from the wall décor snaked around the crowd. Standing in his boxers on the sidelines, Phantan Amoz was enjoying the view. ''The interesting part is acting normal in your underwear,'' he says.
Of course there was the Risky Business guy and the coconut-bra-wearing gal, and then there were those who *really* stood out.
Here's our top five best undressed partygoers:
5. A drag queen, who strutted in fashionably late doused in black and ruby red lingerie with rollers propping up red tufts of hair and, of course, a wild red feather boa (pictured here).
4. Anna Zhukov of Ziezo Boutique clad in white cowboy boots, bra and blue and white Ginch Gonch men's briefs (pictured on right here.) She says, "[The outfit] reminded me of those gay cowboys who go out to a bar and say 'heyyyyy!'''
3. Baby Huey (pictured here), sported a baby blue bonnet and bib along with a cigar dangling from his mouth and something that appears to be adult depends.
2. Daring elephant boy proudly put his tush on display in black string thongs with a cheeky elephant covering up his manly parts (pictured here).
1. The belle of the bare-all ball took it upon herself to design a Fruit of the Loom dress out of men's tighty-whities along with a ginormous pair that worked well for a matching purse (pictured here and here).