What: 10,320 Miles from Melbourne, a graffiti-themed art show Where: Hoffman-Lachance Gallery, 3100 Sutton in Maplewood
On Friday night, four artists whose home-base of Melbourne, Australia is 10,320 miles away (give or take a few hundred), came to St. Louis for the second stop on a four-city tour, which also includes Los Angeles, Philadelphia and New York.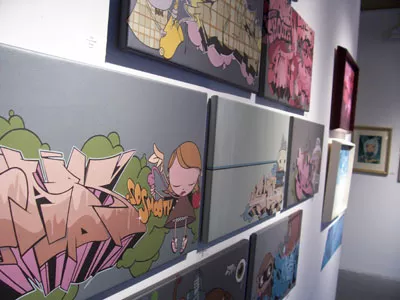 In the Hoffman LaChance gallery, the walls were covered with bright, whiz-bang pieces that ooze street style, applied to wall and canvas with brain surgeon precision.
The crowd that gathered at Hoffman LaChance was a broad collection of graffiti aficionados, art-scene regulars, local musicians and curious on-lookers.
The work on the walls was varied and exciting to behold. Some pieces were small drawings on paper, others were paintings on freshly-stretched canvas some pieces were stenciled on top of old art prints and one, in the adjoining room, was a collaborative piece incorporating all four artists' styles.
Each artist at the opening has a unique style, to be sure, but each was influenced by '70s and '80s hip-hop culture from New York as well as American comic book artists, tattoo artists and illustrators.
When asked if taking the graffiti out of the streets and putting it in a gallery dilutes the work, Myla (real name Emmelene) says, "It's more of a style than actual graffiti," Dvate (real name Jimmy) agrees and says, "The work doesn't change."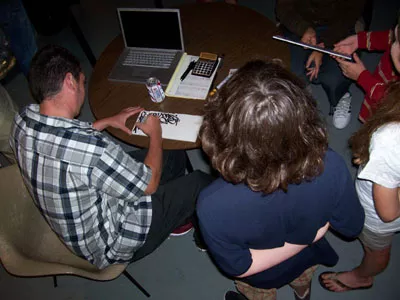 The four artists leave St. Louis Monday for the Rarebreed gallery in Philadelphia. Sear (real name Sam) is the only one absent from this tour. Even though her work is here, she's at home, taking care of her family and their gallery in Collingwood, Per Square Metre.
So why was St. Louis chosen as one of the four cities?
"It's a lot like back home, actually," says the artist Askem (real name Lee).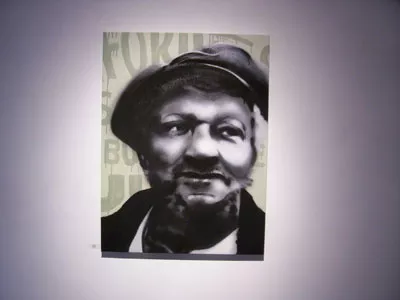 Dabs/Mr. Smooth (real name Darren) agreed, "Oh yeah, it's very similar." Their love of St. Louis shows up in their work -- Dabs' "St. Louis Nights" features a stylized saxophone player and Dvate's "Redd Foxx" is a large, free-hand portrait of the Sanford and Son star and St. Louis native.
They came through at the invitation of St. Louis' own Peat Wollager, who met them through a Los Angeles native Logan Hicks' Workhorse Studios. The whole group came to St. Louis las summer and stayed for nearly a week.
Wollager, doing his best Aussie accent, says they told him, "We love St. Louis heaps!"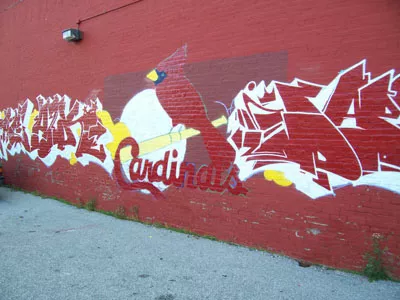 The morning following the exhibit, the crew of Dabs, Myla, Askem and Dvate came down to the corner of Iowa and Cherokee, not far from Peat's studio, to do a large-scale "public work" on the side of a convenience store. To Dvate, the public pieces "bring color to the environment of low-income communities" of which the Cherokee District is a prime example. On the red-brick building all four artists scrawled out their tags and worked out a St. Louis Cardinals logo in the center. When asked why, Dabs replies, "Well, if they try to take it down, baseball fans'll murder 'em."
- Jason Robinson