Everywhere Body Worlds goes, people debate the ethics of plasticizing and displaying human bodies. Is it a sideshow, or is it education? As was the case with Body Worlds 3 at the Saint Louis Science Center, the curiosity factor wins. Thousands of people stroll past the flayed corpses displayed in acrobatic poses. They learn a little anatomy, a little history, a little philosophy. Mostly, they gawk. (Not that we at RFT, or the adult entertainment advertisers who help subsidize our little corner of the blogosphere, have anything against gawking.)
So it might sound a little odd to say that Body Worlds took a turn toward the studious Thursday night by bringing in live nude models. It was Artists Night, and more than 50 people turned out for the special admission price and a chance to spread out with their sketchbooks and easels. The models, recruited by Webster University drawing professor
Brad Loudenback
, rose to the occasion by mimicking the Body Worlds poses.
The artists reveled in the rare confluence of events. Here are some of their comments:
Fontbonne University art major Sanita Jetton chose to draw the live, fleshy version of Pedaling Woman. She had already walked through the exhibit with her anatomy class, but she came back for the variety of models. "Usually you can't get the model to hold a position like this," she says.
Landscape painter Billyo O'Donnell also focused on the live models. Pointing at the curve of a hamstring with his brush, he says the plasticized bodies are a visual aid. "How often do you have reference material like this to look at?"
Carrie Finnestead, who teaches art at Parkway South, took on the greatest technical challenge she could find, the male-female balancing act, Female Orthopedic Body. "It's a beautiful display of anatomy," she says. "You never get them posed like this."
John Nickolai, a theology student and hobby artist, seated himself in front of the model who took the dignified pose of the Torchbearer. Nickolai says he has to write a paper about the exhibit, which closes March 2, for a class called Philosophy of Human Nature. "This exhibit has been a topic of some debate among my brother seminarians," says Nickolai, who attends Kenrick-Glennon Catholic Seminary. Though he arrived with some trepidation, he says, "I don't get the impression this is a circus or a freak show. It appears to be thoughtfully done."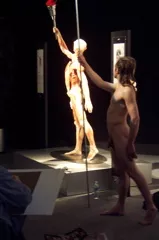 In fact, Nickolai thinks the real value of Body Worlds is in the wonder and marvel it inspires. "This is showing me things I usually take for granted," he says. Reaching to clarify "things," he adds, "I wish I had something more intelligent to say than 'all the stuff that makes up the body' -- the design of the body."
By coincidence, Nickolai is seated beneath this quote from St. Augustine, who lived from 354 to 430 A.D.:
The arrangement of the body is so well-proportioned, the symmetry of its parts so beautiful that it can be doubted whether at its creation utility was more of a determining factor than beauty.