Steve Gerber, the St. Louis-born creator of Howard the Duck and Omega the Unknown, died last Saturday in Las Vegas. The cause was complications from pulmonary fibrosis. He was 60.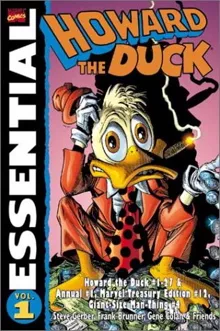 "It's just a fact of life, it's something I have to deal with," Gerber wrote on the comics Web site
Newsarama
in September. "Naturally, I'd be very happy if there were, you know, a 'cure' for this, but there isn't. I've got fibrosis of the lungs, and it's a…so far slow-but-progressive disease that, if not treated, will ultimately off me."
Gerber chronicled his illness on his own Web site, which is now being maintained by his friend Mark Evanier.
Gerber was one of the first comic-book writers to demand creative control over his work. He sued Marvel to retain the rights to Howard after he left the company in the late 1970s. He lost, and a godawful Howard the Duck movie came out in the mid-1980s that eclipsed Howard's comic book adventures.
"Howard the Duck was made into a film for a reason," says Star Clipper Comics co-owner A.J. Trujillo. "It was a cult hit. It's worth reading." Star Clipper has set up a display of Gerber's work.
Gerber did not return to St. Louis very often. His mother still lived here, however, and bought copies of all his work from Star Clipper. Last year Gerber collaborated with local artist Brian Hurtt on Hard Time. "That was one we all really enjoyed," says Star Clipper co-owner Ben Trujillo.
"I'm saddened," says Mark Farace, owner of Mo's Comics. "He was a young man, too. A lot of guys locally knew him. Everybody's pretty bummed."
The New York Times and the Comics Reporter have both published obituaries.
I admit, I didn't know much about Gerber before today (beyond the Howard the Duck movie, which I had the misfortune of stumbling across on TV one gloomy Saturday afternoon). But now, at the Trujillos' insistence, I am reading The Essential Howard the Duck. I'm sorry it took Gerber's death to bring it to my attention.