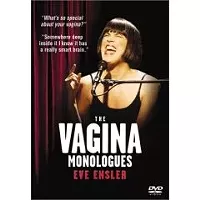 www.amazon.com
Saint Louis University's observance of V-Day, a global effort to raise money to end violence against girls and women, ended prematurely last night with a standing-room-only performance of Eve Ensler's The Vagina Monologues at Jazz at the Bistro on Washington Avenue.
V-Day had been scheduled to continue its run through the weekend with two performances of another Ensler play, A Monologue, A Memory, A Rant, and A Prayer, at Tegler Hall on SLU's campus. But last Friday, the department of Student Life informed officers of Una, the women's group responsible for V-Day, that, while they had permission to use the space, they'd never been authorized to perform the play itself.
Two administrators, Scott Smith and Donna Bess, particularly objected to one monologue that begins "Black vagina" and suggested the actors say "black woman" instead. The students refused. "If you omit the word, you lose the message," explained Emma Schartner, a co-producer of V-Day and the director of A Monologue.
Schartner acknowledges that she and her fellow V-Day organizers should have been more careful about securing permission to perform A Monologue, but she believes the true issue is about objections to the play itself. "While procedure is important, censorship is as well," she said. "We will not be silenced."
"I don't understand the problem," said Danielle Smith, one of the three actresses who were to have performed the controversial monologue. "It's a powerful piece. As a black woman, it's a way of saying, 'Yeah! I'm here!' Those words are empowering."
This is not the first controversy facing this year's V-Day. SLU's administration banned The Vagina Monologues from campus in the fall of 2006. Students had performed the play each February since 2000, but Provost Joseph Weixlmann decided to stop funding the production.
"Among other things, producing the same play -- any play -- year after year gets old," Weixlmann said at the time. Una moved The Vagina Monologues to Jazz at the Bistro and this year planned to substitute an on-campus production of A Monologue until that, too, was cancelled.
Thus, last night's performance of The Vagina Monologues became a forum for protest. Cast members marched onstage bearing note cards that read: "Stop censorship!"
"We are having V-Day this year without the official support of the university," announced the play's director Alejandra Iberico Lozada. "A Monologue, A Memory, A Rant, and A Prayer was meant to be an alternative to The Vagina Monologues. But we've been kicked off campus." Iberico Lozada urged the audience to sign their names to letters of support for V-Day that had been placed on chairs.
Una plans to donate all the profits from the V-Day shows to the Catholic Workers' Karen House and the Women's Safe House, both in St. Louis, and to women in New Orleans and the Gulf Coast who has been displaced by Hurricane Katrina. Last year V-Day raised $8,000.
SLU's administration offered no comment on the situation.
"Sadly, this is typical of SLU's administration," said Ian Darnell, another cast member of A Monologue. "You have to peel through lies and double-talk to get to their motivation. They have rich donors who are reactionary and subscribe to narrow-minded, outdated version of Catholicism. They think women's independence and demonstration of sexuality is wrong, and they use their power to get the administration to go along."