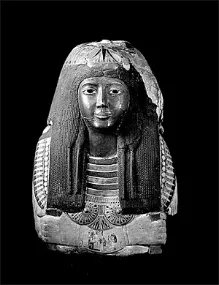 During a discussion of the recently identified mummy of queen Hatshepsut on the July 9 edition of the
Charlie Rose Show
,
Zahi Hawass
, secretary general of Egypt's Supreme Council of Antiquities, again called out the
Saint Louis Art Museum
for its refusal to return the Ka-Nefer-Nefer mask to Egypt.
Hawass contends that the ornate funereal mask, which depicts a woman of the Nineteenth Dynasty, was illegally removed from Egypt after its discovery in 1952. The history of the mask was the subject of "Out of Egypt," a Riverfront Times feature story published early last year.
Toward the end of the Rose interview, Hawass stated that although he has overseen the repatriation of roughly five thousand Egyptian artifacts over the past five years, one prize has eluded him:
"We still have one mask in [the] Saint Louis Museum of Art [that was] stolen from Egypt," said Hawass. "The museum does not want to return it."
[Hawass' discussion of the St. Louis mask occurs at minute 23:35.] Saint Louis Art Museum director Brent Benjamin has repeatedly stated that the museum diligently researched the mask's provenance and found no red flags prior to the purchase in 1998.
Although Hawass has threatened to sue the museum if it does not comply with his demand, so far the flamboyant Egyptian has confined his actions to just that -- a threat.